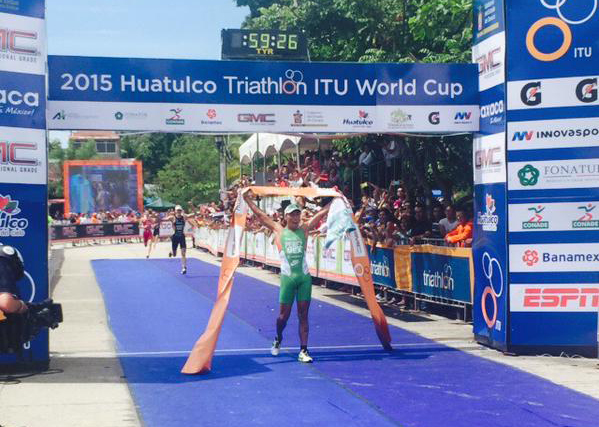 Flash: Vittoria del messicano Irving Perez nella World Cup disputata oggi a Huatulco, su distanza sprint, che ha tagliato primo il traguardo davanti al tedesco Maximilian Schwetz e all'austriaco Thomas Springer.
Il carabiniere Massimo De Ponti ed il portacolori delle Fiamme Azzurre Davide Uccellari, hanno conseguito due ottimi piazzamenti, rispettivamente il 5 ed il 6 posto che li inserisce nella top ten della 'classica' di coppamondo del Messico.

Per Luca Facchinetti 34° ed Andrea Secchiero 36°, purtroppo piazzamenti nelle retrovie della classifica.
- Seguono approfondimenti -
International Triathlon Union
Press Release • June 14, 2015
First time Huatulco World Cup wins for Carvallo, Perez
Huatulco, June 14 - The Huatulco World Cup delivered a day of firsts as Chile's Valentina Carvallo and local Mexican favourite Irving Perez claimed their first World Cup wins on Sunday. In very hot and sunny conditions both Carvallo and Perez claimed their victories in a last-lap breakaway finish. Elite Women's Review
Valentina Carvallo (CHI) captured her first World Cup title after scorching through a testing bike course that she followed up with blistering run at the Huatulco World Cup.
Switzerland's Jolanda Annen out lasted last year's Huatulco bronze medallist Mateja Simic for silver in the sprint distance race.
The USA's Kirsten Kasper ensured the US was represented on the podium, as they have been at all but one World Cup and World Triathlon Series race so far this season, with third. It was the first time each of the women had ever secured a World Cup podium finish.
With just a one-lap dip in the ocean on tap for the athletes in Huatulco, the swim didn't serve to break the athletes up as a group of more than 15 played follow the leader out of the water.
Home country favorite Claudia Rivas and last year's winner Lisa Perterer (AUT) took control of the bike early on along with Denmark's Line Thams to create a minute wide gap over the chase by midway through the four-lap course.
As Carvallo charged up the challenging hill each lap at the helm of the 15-athlete deep lead pack, another 10 athletes worked to bridge up including the likes of Erin Densham (AUS), Erin Jones (USA), Renee Tomlin(USA) and Felicity Sheedy-Ryan (AUS) after falling behind due to an uphill crash on the first lap of the bike.
"I didn't feel super great in the water. I was able to make up a little bit of distance in the transition to leave and have a good first lap," Carvallo said. "I wanted to be in the top group so I could relax a little bit on the bike. I knew I needed anther good transition after that and from there on I felt really comfortable, So I'm very happy."
But with her first World Cup title on the line, Carvallo made her move quickly. She pushed ahead early on the first lap for a 25-second advantage over Annen and Simic while last year's silver medallist Rivas fell off the pace.
With the title all but clenched by Carvallo, the hunt for silver was on. Annen took advantage in the last lap of the run to push ahead of Simic and secure the silver medal. With Simic looking like she may take the final spot on the podium, it was Kasper who showcased her strong ability on the run to pass her and take her first World Cup podium.
Elite Men's Review
It was a day of firsts for Mexico's own Irving Perez as he became the first Mexican athlete to win the Huatulco World Cup on Sunday when he ran away from a massive field, with it clenching his first World Cup title.The day of breakthroughs didn't stop there, as Germany's Maximilian Schwetz and Thomas Springer picked up their first World cup podiums with silver and bronze, respectively.While Schwetz exited out of the one-lap 750m beach swim followed by Perez out front, it wasn't a line to line lead for the men, as the pair headed up a massive contingency of men into a congested first transition.Despite the sizable hill on each of the four laps, it didn't lend itself to splintering the pack on the first turn around the bike course. While 2014 gold medallist and bronze medallists Luciano Taccone (ARG) and Aurelien Lescure moved their way to the front, other pre-race favourites such as Crisanto Grajales strategically stayed safely in the pack.Lescure, who had the win in Huatulco wrapped up in 2014 until the final run meters when he faltered with heat exhaustion to see Taccone and Uccellari run past him, gunned it for a small break on the bike in the third lap.But a breakaway wasn't in the cards for Lescure this year. After being sucked back into the pack, the winner was to be decided on the 2-lap 5km run. Uccellari and Gregory Billington (USA) made it out of T2 first, although no lead was to come of their speedy transition.Instead, Perez powered away with the home crowd roaring him on after the first lap. Ten seconds behind him, Massimo De Ponti (ITA), Schwetz, Kevin Mcdowell (USA) and Manuel Huerta (PUR) ran shoulder to shoulder.Perez maintained his pace on the second lap to score gold and steal a piece of history in the process. Further back, Schwetz was the first to drop the pack, a move that saw him score silver."I am so happy for this race because it was my first time winning here. I am so happy for the Mexican team, my coach, my family and the support from the people. The guys were very fast, but I tried to respond and attack in the second leg, I felt very good," said Perez.Springer, who nearly secured a World Cup podium in Huatulco in 2008 but fell just short in fourth, decided not to let history repeat itself. Turning his speed up to turbo just in time, he ran past a crew of men for bronze.