Sabato 13 ottobre la Coppa del Mondo di Triathlon fa tappa negli Stati Uniti. Tocca al Nathan Benderson Park, nei pressi di Sarasota, accogliere i 130 triatleti (65 uomini e 65 donne) a caccia di punti per il ranking di qualificazione olimpica che si sfideranno su distanza sprint. Per quanto riguarda i colori italiani, su comunicazione dell'Olympic Performance Director Joel Filliol, parteciperanno alla prova americana di World Cup Alice Betto (G.S. Fiamme Oro) e Angelica Olmo (C.S. Carabinieri) mentre risultano iscritti a titolo personale Luca Facchinetti (707), Andrea Secchiero (G.S. Fiamme Oro), Matthias Steinwandter (C.S. Carabinieri) e Alessia Orla (DDS).
Fitte le start list da cui spiccano i nomi di Vincent Luis (Fra), vincitore della Grand Final di World Triathlon Series in Australia, delle padrone di casa Kasper e Spivey e della vincitrice della tappa di Cagliari Perterer (Aut).
IL PROGRAMMA (ora locale, in Italia + 6 ore)
Sabato 13 ottobre
13:30 - Donne
15:30 - Uomini
La settimana successiva, è in programma la tappa di Coppa del Mondo di Salinas. In Ecuador, il 21 ottobre torneranno in gara Betto, Facchinetti, Secchiero, Steinwandter e Orla. [info]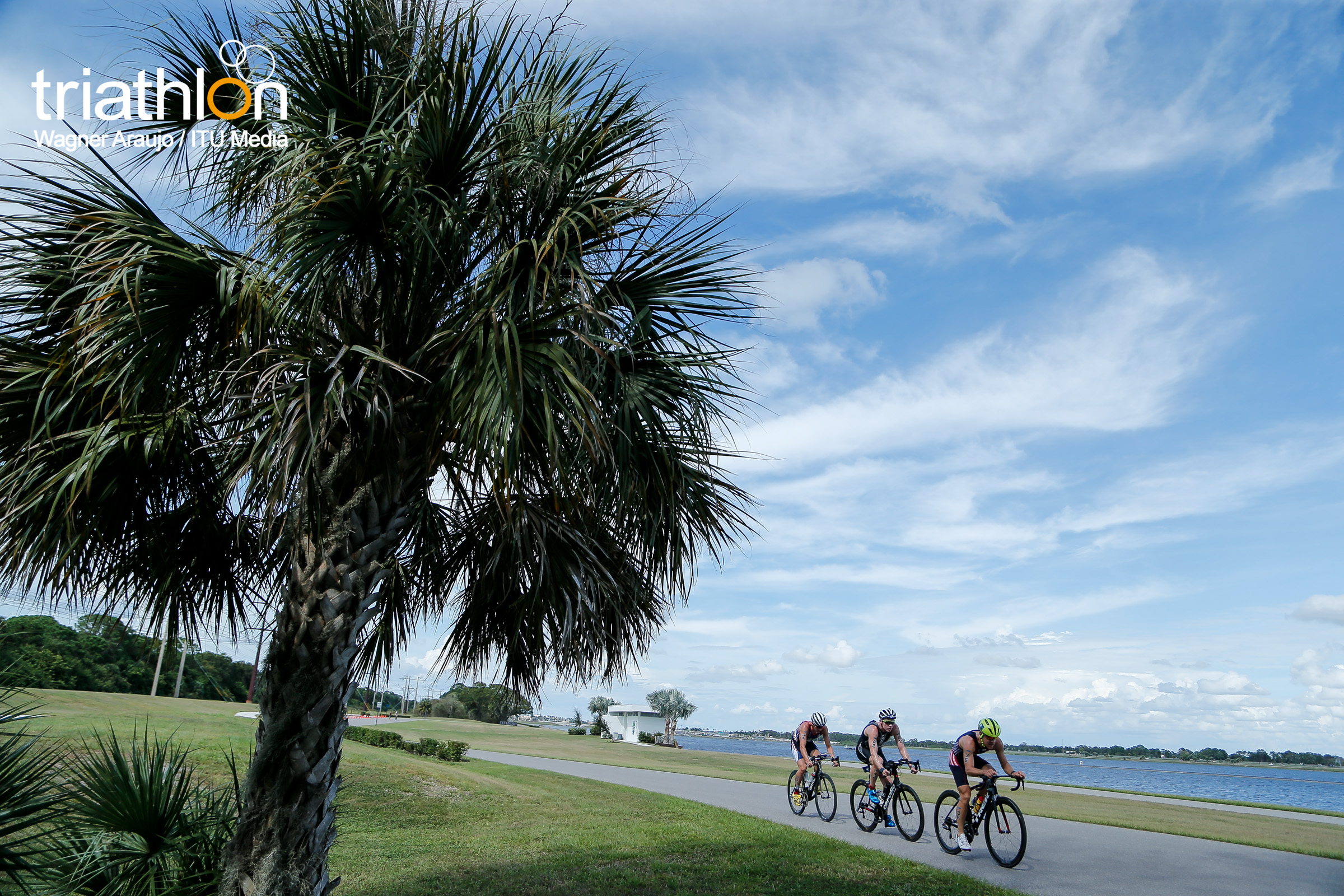 World Cup racing continues into the U.S. with Sarasota-Bradenton event
The 2018 ITU World Cup season has hit lucky stop number 13 on the calendar as the series enters the United States to host the 2018 Sarasota-Bradenton ITU Triathlon World Cup. For the second year in a row, the race will be held at the Nathan Benderson Park, where elites from across the globe will compete in the ninth sprint-distance race of the year. The course will be a one-lap 750m swim, three-lap 18km bike and one-lap 5km run.
The weekend will be a jam-packed triathlon event as Elite races are set to take place on Saturday, October 13 and then followed by the Elite Paratriathlon World Cup on Sunday, October 14.
Women's Preview
The Americans are showing up on home soil in the women's field as three U.S. athletes line the roster in the top five. Leading the charge is Kirsten Kasper, who finished just off the overall WTS World Championship podium with a fourth-place ranking. Kasper returns to the World Cup circuit after not racing in an event since March. However, if her track record continues the way she started the year, she is a strong podium contender. She came second in Mooloolaba and then followed it up with a victory in New Plymouth.
The next leading lady is Taylor Spivey (USA). Spivey will enter Saturday coming off of a career-high performance after she won the Weihai World Cup and collected her first World Cup victory ever. Spivey has continued to show her potential to be one of the top U.S. women, so adding another medal this weekend would only affirm that. The other top American in the women's field is Chelsea Burns, who has a string of bronze medals in the World Cup game, but eager to climb.
Japan's Juri Ide won in Sarasota last year when the race was changed into a run-bike-run duathlon. She is a very strong runner and with the one-lap race course, it could be the setting needed for her to finish on top for another time.
Another strong runner in the women's race is Vendula Frintova (CZE). She does well in warm-weather conditions and the Florida climate makes the right fit for her. While the woman to beat on the bike is Italian Alice Betto. She rarely was found outside of the lead pack in the WTS season this year, so look for her to dominate the game this Saturday.
Joanna Brown of Canada also can be thrown into the contention mix. She added a huge accolade to her record book when she won the bronze medal at the Commonwealth Games this year in the Gold Coast, but she has yet to add World Cup Champion to her resume, so it could be a career first this weekend.
Click here for the full women's start list
Men's Preview
Frenchman Vincent Luis will make a rare appearance in a World Cup race this weekend in Sarasota-Bradenton. Racing at this level for the first time in over four years, his last World Cup event was in New Plymouth back in 2014. In fact, Luis has competed in less than 10 World Cup races in his whole career. However, despite the unfamiliar territory, Luis still enters as the top man on the start list after he earned second overall in the World Triathlon Series this year and winning WTS Gold Coast.
Following Luis on the start list is another top-ten World ranked athlete, Canadian Tyler Mislawchuk. This season has been a strong one for the Canadian, he had a career-best fourth-place finish in the WTS season to aid him in finishing 9th overall in the Series. He also had success at the World Cup level as well this year after the bronze medal in the Antwerp World Cup in June.
Last year's Sarasota's Champion Rodrigo Gonzalez (MEX) also returns to reclaim his event title. While the 2017 event was a duathlon format, Gonzalez put up a strong performance on a heated day to win the debut gold. That success has carried into this year as well, he won the Huatulco World Cup and took third in Chengdu.
The rest of the men's field is filled with competitors who have shown that they have what it takes to make a high-stakes podium.
The 2018 Chengdu World Cup Champion, Rostislav Pevtsov (AZE) and 2018 Antwerp World Cup Champion, Jelle Geens(BEL) both vying for their second series wins of the year, while Spaniard Antonio Serrat-Seoane looks to turn his 2018 Weihai World Cup silver into his first-career WC gold.
The U23 ITU World Champion, Tayler Reid (NZL) will also line up this Saturday and could collect his first-career World Cup victory.
Representing the home nation, USA's Eli Hemming and Matthew McElroy are the top hopefuls. Both men were teammates on the winning U.S. Mixed Relay team that won in Nottingham earlier this year.
Click here for the full men's start list
(fonte: Triathlon.org)