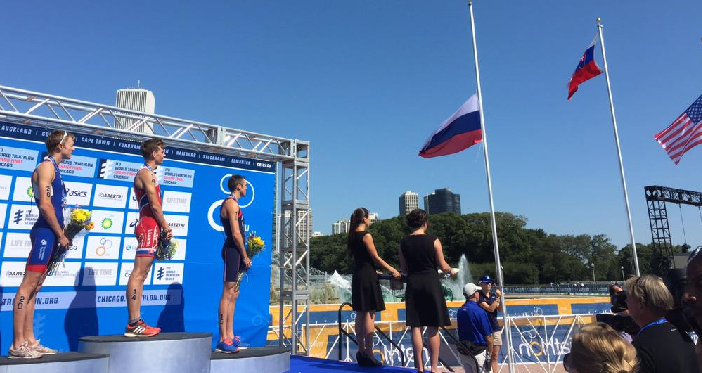 Si è aperta la rassegna mondiale di Chicago, con la prima prova in programma, l'Aquathlon che vede per lo slovacco Richard Varga conquistare la sua 4^ medaglia mondiale nella specialità e la russa Anastasia Abrasimova campionessa iridata della stagione 2015.
Vittoria per lo slovacco, che vedremo impegnato sabato prossima nella gara elite di triathlon, con 7 secondi di vantaggio sull'avversario Igor Polyanskiy (RUS) giunto secondo. Il terzo gradino del podio è andato allo statunitense Matthew Mcelroy, migliore dei suoi compagni di squadra, Zaferes e Nick Karwoski, giunti alle spalle del Bronzo, rispettivamente 4° e 5°.
Nella gara femminile, doppietta sul podio per la Russia con Oro e Argento: il titolo mondiale della specialità è andato ad Anastasia Abrasimova che si è imposta davanti ad Elena Danilova. Terza al traguardo la rappresentante della regione autonoma di Macau, Hoi Long.
Tutti i vincitori della rassegna di Aquathlon: Under23, Junior, e Paratriathlon
News ITU: Varga victorious at Aquathlon World Champs a fourth time

Da oggi pomeriggio alle ore 14.00 il via al Mondiale di Triathlon con le gare Under23 maschili: sguardi puntati sui nostri azzurri Delian Stateff (GS.Fiamme Azzurre), Gianluca Pozzatti (CUS Trento) e Riccardo De Palma (Minerva Roma): per seguire le gare http://www.triathlon.org/live http://www.triathlon.org/live/timing?pid=leaderboard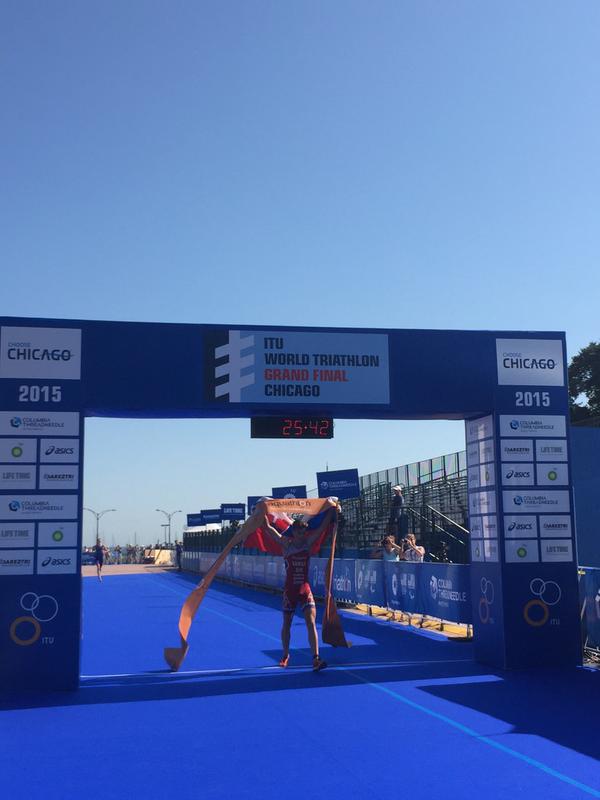 @Foto ITU
Da ITU:
Varga victorious at Aquathlon World Champs a fourth time
Chicago, USA - The ITU Aquathlon World Championships kicked off a week of action at the ITU World Triathlon Grand Final Chicago on Wednesday with elite, paratriathlon, junior, U23 and age groupers racing over a 750m swim and 5km run. Slovakia's Richard Varga, who will race later this week in the men's elite triathlon, stole the show as he scored his fourth career Aquathlon World Championship title.
Men's Review
Richard Varga swam and ran his way to an impressive fourth multisport World Championship title when he beat out tough competition in Igor Polyanskiy by just seven seconds in 25:42.
Featuring a deep start list that also included Tommy Zaferes (USA) and 2014 Aquathlon World Champ silver medallist Ryouske Yamamoto (JPN), third place when to USA's Matthew Mcelroy when he blew past compatriot Zaferes and Croatia's Luka Paliska on the run, splitting a fiery 14:38 over the 5km course.
"I didn't expect it would be that easy today, I thought it would be much harder because the field was pretty strong, as you can see with Polyanskiy and Mcelroy," Varga said. "So I thought they all would give me a struggle, but I feel really good today, on the run especially. So I am really happy that I could win today."

Women's Review
Russia ruled the day in the women's race with strong swimmer Anastasia Abrosimova clocking in first followed by teammate Elena Danilova. Abrosimova set the pace on the one-lap 750m swim along with compatriot Anastasia Gorbunova and Great Britain's Hannah Kitchen. But the pair couldn't hang on to Abrosimova's blistering tempo on the run and fell behind. Instead it was Danilova that kicked into turbo to pick off women until she ran herself into second place, follow by Long Hoi (MAC) in third.
U23 Races
Ben Sayles collected the first gold medal for Canada when he won the Under23 men's Aquathlon World Championship by more than a minute of Egypt's Mohamed Elsaied and Mohamed Khaled. The only two competitors in the women's category, Joselyn Brea (VEN) went home the women's U23 gold medallist by more than eight minutes while Brazil's Tamyres Domingos took silver.Junior Races
Croatia scored the men's and women's junior races, taking the top two spots in both events. Elisabetta Vitasovic led from line to line followed by teammate Chiara Perusko to take home the clear gold and silver while Fatma Hagras of Egypt rounded out the podium.On the men's side, Luka Paliska started the day in the middle of the pack on the swim, but quickly zoomed past his competition on the 5km run, eventually sailing over in first. While his countryman started out with a solid swim, he only had enough gas left to hold on for second while Yhousman Perdomo (VEN) held his third place positon out of the water through the race to earn bronze.Paratriathlon
The Paratriathlon Aquathlon World Championships saw a number of athletes crowned the fastest athlete to swim and run including Brian Martin (CAN), Daniel Molina (ESP), Joel Rosinbum (USA), Daniel Llambrich Gabriel (ESP), Kerry Large (GBR) and Melissa Reid (GBR).
"It is awesome to have a World Championship, I am so excited, I fought that one hard," Martin said. "Everything was great on the swim, I was cruising down the first gate and made the first 180 degree turn, and I think I just hit the front tire too hard against the ground, so my spokes went out so I had to wheelie in the rest of the last 3km."