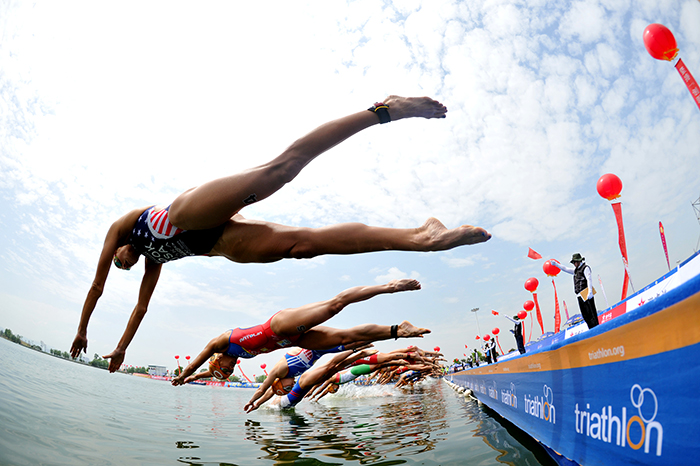 Tre italiani alla prossima World Cup in programma in Cina a Chengdu il 6 e 7 maggio.
Saranno in gara Giorgia Priarone (TD Rimini), Alessia Orla (DDS) e Matthias Steinwandter (C.S.Carabinieri). Durante la trasferta, gli atleti saranno supportati dal tecnico Andrea D'Aquino.
Il programma dell'evento prevede nella giornata di sabato le semifinali e la domenica la gara finale su distanza sprint.
Tutte le info: programma, start list, percorsi: http://www.triathlon.org/events/event/2017_chengdu_itu_triathlon_world_cup
International Triathlon Union
Chengdu to host first semi-final race format of 2017 World Cup season
CHENGDU, CHINA - In the fourth stop of the World Cup series, China will host the first semi-final/ final format of the year at the 2017 Chengdu ITU Triathlon World Cup.
The multi-race format will consist of two different events with two different distances held over the course of two days. In a semi-final elimination round, athletes will complete a sprint-distance course, which consists of a 750-metre swim, 20-kilometre bike and 5-kilometre run. The men's field will have a total of three semi-final rounds where the top nine men from each round will qualify for the finals, followed by the next top three fastest combined times to create a total of 30 men for the "A" Final start list. For the women, two heats will occur with the top 14 finishers from both rounds combined with the next two fastest times will create the 30-woman "A" Final roster. In both genders the athletes with the time of 31st to 60th position in the semi-finals will qualify for the "B" Finals. The Finals will then consist of a super sprint-distance format, which will see the athletes completing a 400-metre swim, 10-kilometre bike and 2.5-kilometre run to crown the final winners.
Click here for the full preview
ABOUT THE RACE:
The ITU World Cup Series moves to Chengdu, the capital of China's southwest province of Sichuan. Chengdu hosts a World Cup race for the fourth time this weekend and will debut a semi-final/final event format for the first time.
SCHEDULE:
Elite Men Semi-finals
Saturday 06 May - 09:00am UTC/GMT +8 Click here for the time in your area
Elite Men Finals
Sunday 07 May - 10:05am UTC/GMT +8 Click here for the time in your area
Elite Women Semi-finals
Saturday 06 May - 11:30pm UTC/GMT+8 Click here for the time in your area
Elite Women Finals
Sunday 07 May - 10:50am UTC/GMT +8 Click here for the time in your area
WEBSITES:
triathlon.orgSTART LISTS:
Click here for the women's start list
Click here for the men's start list PRIZE MONEY:
$60,000 USD (equal for men & women)
LIVE COVERAGE:
Follow #ChengduWC live with timing and text updates, at triathlon.org/live and on twitter at@triathlonlive.
COURSE PROFILES:
Semi-finals:
Swim - 750m - Athletes will dive off a pontoon start in for a one-lap swim in an inner-city man made lake.
Bike - 20km - The bike course consists of three technical laps with slight inclines and rolling hills throughout the city.
Run - 5km - The run is two flat loops around the city and into a lush park.
Click here for the course map
Finals
Swim - 400m - Athletes will dive off a pontoon start in for a one-lap swim in an inner-city man made lake.
Bike - 10km - The bike course consists of three laps of 3.4kms.
Run - 2.5km - The run will be two flat laps of 1.25km.
Click here for the course mapPAST CHENGDU WORLD CUP RESULTS
WOMEN MEN
2016 Summer Cook (USA) Rodrigo Gonzalez (MEX)
2015 Renee Tomlin (USA) Ryan Fisher (AUS)
2014 Gillian Backhouse (AUS) Wian Sullwald (RSA)