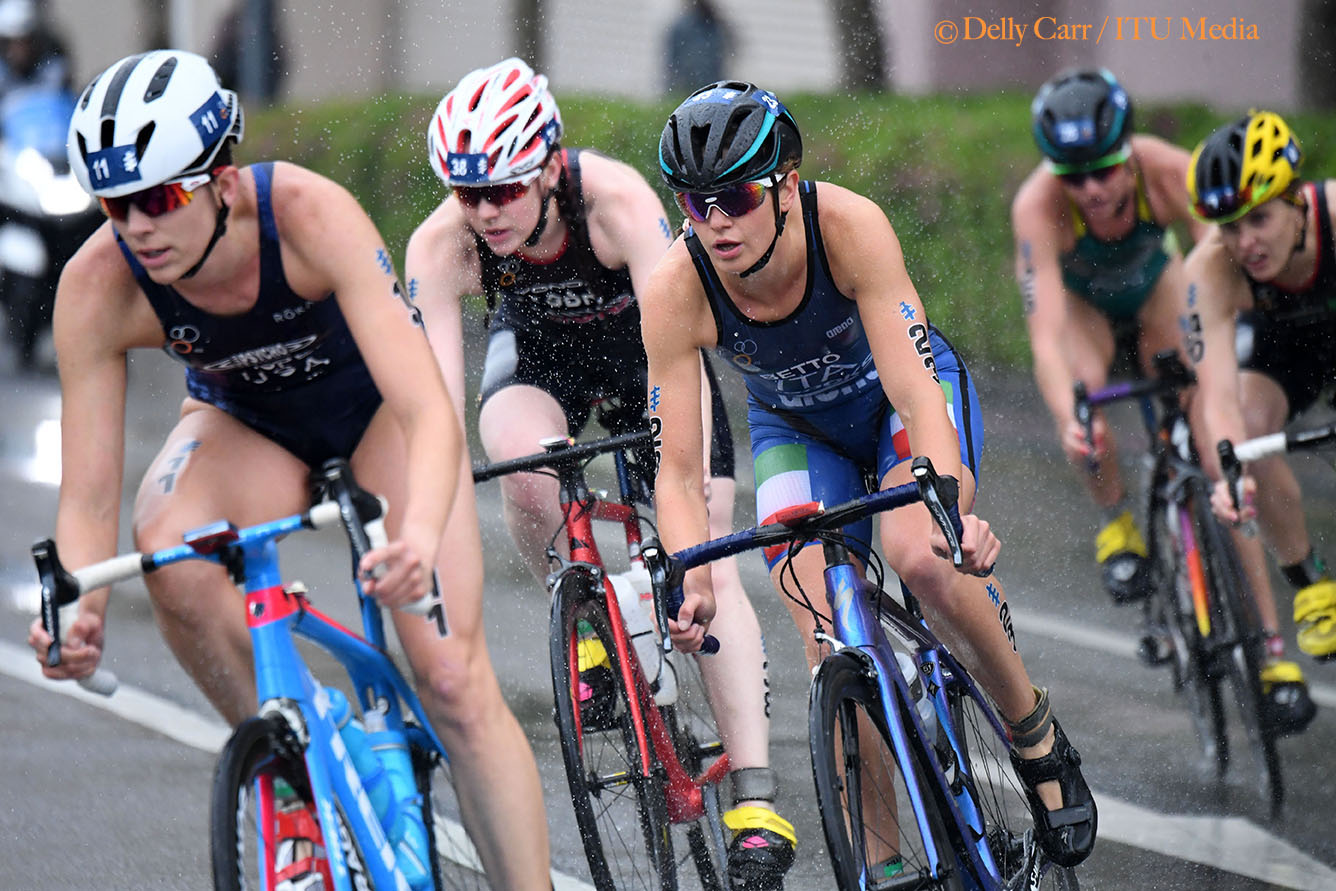 A due settimane dalla esaltante tappa di Bermuda, la World Triathlon Series vola in Giappone per il terzo appuntamento del calendario 2018. Sabato 12 maggio, si gareggia a Yokohama su distanza classica e a difendere i colori italiani ci sarà Alice Betto (G.S. Fiamme Oro), supportata durante la trasferta nipponica dall'Olympic Performance Director Joel Filliol, dal coach Alessandro Bottoni (tecnico U3T Squad) e dal fisioterapista Jose Miota. Dall'1 al 9 maggio, Alice e lo staff azzurro sono stati in raduno a Chiba (Jpn), una località che potrebbe essere la località che ospiterà il raduno pre-olimpico mentre il Performance Manager Francesco Fissore, prima di raggiungere il team a Yokohama, ha compiuto un sopralluogo a Odaiba, l'isola artificiale di Tokyo che sarà la sede della gara olimpica nel 2020.
A proposito di Tokyo 2020, venerdì 11 maggio si apre la finestra per ottenere i punti che andranno a comporre il ranking di qualificazione olimpica (qui i dettagli); il percorso di qualificazione ai Giochi si chiuderà l'11 maggio 2020.
Tornando alla prova di Yokohama, la start list è come di consueto di altissimo livello per la prova femminile in cui la Betto partirà con il numero 12: Kirster Kasper (Usa), leader del circuito WTS, partirà con il pettorale 1, ma tra le favorite d'obbligo c'è la campionessa del mondo in carica Flora Duffy, autrice di un assolo straripante nella gara di casa a Hamilton. Vorranno far bene le padrone di casa Yuko Takahashi e Yuka Sato oltre alla più esperta Juri Ide; al via le americane Zaferes e Spivey, le australiane Gentle e Van Coevorden, l'olandese Klamer, la tedesca Lindemann, le britanniche Stanford e Stimpson.
Nessun azzurro iscritto nella prova maschile: oltre all'iridato Mario Mola, la Spagna punta su Fernando Alarza, si rivedono i norvegesi Blummenfelt e Iden, autori dell'impresa storica a Bermuda assieme al connazionale Stornes, il quale non sarà al via a Yokohama, i francesi Luis, La Corre e Coninx, i sudafricani Murray e Schoeman.
Start list: Uomini https://wts.triathlon.org/start_lists/2018_itu_world_triathlon_yokohama/321144
Donne https://wts.triathlon.org/start_lists/2018_itu_world_triathlon_yokohama/321145
Diretta su: www.triathlonlive.tv
Il sito ufficiale: https://yokohama.triathlon.org/en/home/
PROGRAMMA
Sabato 12 maggio (- 7 ore in Italia)
10:06 – Gara donne, partenza
13:06 – Gara uomini
15:00 – Premiazioni
Sabato 12 maggio, ci sarà spazio anche per gli atleti paralimpici in occasione della World Paratriathlon Series. Partenze delle gare tra le 6.55 e le 9.10 ora locale (- 7 ore in Italia). Per l'appuntamento giapponese, Il direttore tecnico del Mattia Cambi ha convocato Giovanni Achenza (PTWC – G.S. Fiamme Azzurre), Anna Barbaro (PTVI, Woman Triathlon Italia), Veronica Yoko Plebani (PTS2 – 707); durante la trasferta, gli azzurri saranno supportati dallo stesso Direttore Tecnico, da Neil Macleod (Project Manager) e da Francesca Tibaldi (Guida di Anna Barbaro).
Presentazione World Paratriathlon Series Yokohama: http://www.fitri.it/archivio-news/news/archivio-news/1116-itu-event/15391-world-paratriathlon-series-gli-azzurri-in-gara-a-yokohama.html
APPROFONDIMENTO – QUALIFICAZIONE GIOCHI OLIMPICI TOKYO 2020
(fonte: ITU)
For the first time in history, triathletes will have three medal events in the Tokyo 2020 Olympics, and the road to be among the chosen to compete for Olympic glory starts this weekend, in the 2018 ITU World Triathlon Yokohama. 55 men and 55 women will compete in Tokyo 2020 in the individual events, as well as, in teams of four athletes from the same country, in the Mixed Relay. The Qualification period starts on May 11, 2018, and will finish on the same day in 2020.
"Tokyo is going to be an extremely important event not only for the International Triathlon Union, but also for the history of our sport, and also for the athletes competing there", said ITU President and IOC member, Marisol Casado. "The Olympic Games is the pinnacle of the sport, and to give our athletes the possibility to earn two medals in the same Games is something that we should all be very proud of. Also, having male and female athletes competing together as a team will show the world how committed with gender balance triathlon is, and how our athletes can shine and perform under any circumstances, both individually and as a team", she said.
"For this Qualification period, the key for the National Federations will be to find the balance in the focus of the individual and mixed relay participation in the next two years. It will require a real team effort from all the Federations", explained Gergely Markus, ITU Sports Director.
There will be various ways to qualify for Tokyo 2020 Olympic Games and earn one of the 55 spots available. As a new addition to the previous qualification criteria, there will be Mixed Relay events counting towards the qualification.
The top seven counties of the Mixed Relay Olympic Qualification Ranking as of March 31, 2020, will secure 2 men and 2 women quota places.
There will be three further countries awarded with 2-2 places from those finishing on the podium of an event available to the best 18 teams other than those 7 countries who have already secured their spots via the Ranking. This qualification event will be held between April 1 and May 11, 2020. The host nation of Japan will also be guaranteed with 2-2 places.
With these three methods, we will have secured 22 of the 55 places.
There will be 26 places available through the Individual Olympic Qualification Ranking.
For those countries with 2-2 places already secured by any of the previous qualification pathways, the top 2 athletes in both genders will not be considered in this ranking.
The countries that will have minimum 3 athletes among the top 30 of this ranking will be able to secure a third place for their country, the rest will be awarded maximum of 2 places.
The eligibility criteria to any of the athletes for all the above places will be the top 140 places of the Individual Olympic Qualification Ranking.
The "new flag" rule will be applied again for the qualification for Tokyo 2020. The countries that will be eligible for those places will be the ones which athletes' are at the best ranking position from the continent on the ITU World Ranking from those countries which didn't secure any place by any means of the above.
Last but not least, a maximum of two invitations will be awarded to countries entitled to receive such places and with eligible athletes according to the IOC criteria, which is to be in the top 180 of the ITU World Ranking for the last two qualification means.
Some other important aspects: the quota places will be earned for the countries and it will be the internal decision of the National Olympic Committee of each country to nominate the athletes from those eligible.
Also, it will not be mandatory to compete on the individual events of the Tokyo 2020 Olympic Games to be part of the team of the Mixed Relay event, however the quota of the counties will not be increased in such case.
Let the road for the Tokyo 2020 Olympics begin!