Domenica 2 settembre ritorna la Coppa del Mondo: saranno 11 gli azzurri impegnati nella tappa della Repubblica Ceca a Karlovy Vary, ormai una classica del panorama internazionale, tra cui Alessandro Fabian, rientrato alle gare in WTS a Montreal dopo l'infortunio alla clavicola, Verena Steinhauser, reduce dal podio di Losanna, e Anna Maria Mazzetti, alla prima gara di Coppa del Mondo del 2018.
Risultano iscritti a titolo personale i seguenti atleti:
Uomini
Gregory Barnaby (707)
Alessandro Fabian (Trif Dream)
Gianluca Pozzatti (707)
Delian Stateff (G.S. Fiamme Azzurre)
Davide Uccellari (G.S. Fiamme Azzurre)
Donne
Anna Maria Mazzetti (G.S. Fiamme Oro)
Alessia Orla (DDS)
Giorgia Priarone (707)
Lisa Schanung (DDS)
Verena Steinhauser (Project Ultraman)
Ilaria Zane (DDS)
Gli atleti, in questa occasione, saranno supportati da Francesco Fissore (Performance Manager), Andrea D'Aquino (Tecnico HSS Squad) e Dario Picco (Fisioterapista).
Gara su distanza olimpica con percorsi accattivanti e selettivi: 2 giri da 750 metri per la frazione nuoto, 7 impegnative e tecniche tornate da 5 km per la frazione ciclistica a cui si aggiungono i primi 6 km di trasferimento e 4 giri di corsa con cambi di fondo stradale e curve strette. Ricco il parterre di partecipanti che conta 66 uomini e 48 donne.
PROGRAMMA
Domenica 2 settembre
10:00 Start ITU World Cup – DONNE
15:00 Start ITU World Cup – UOMINI
17:00 Premiazioni
START LIST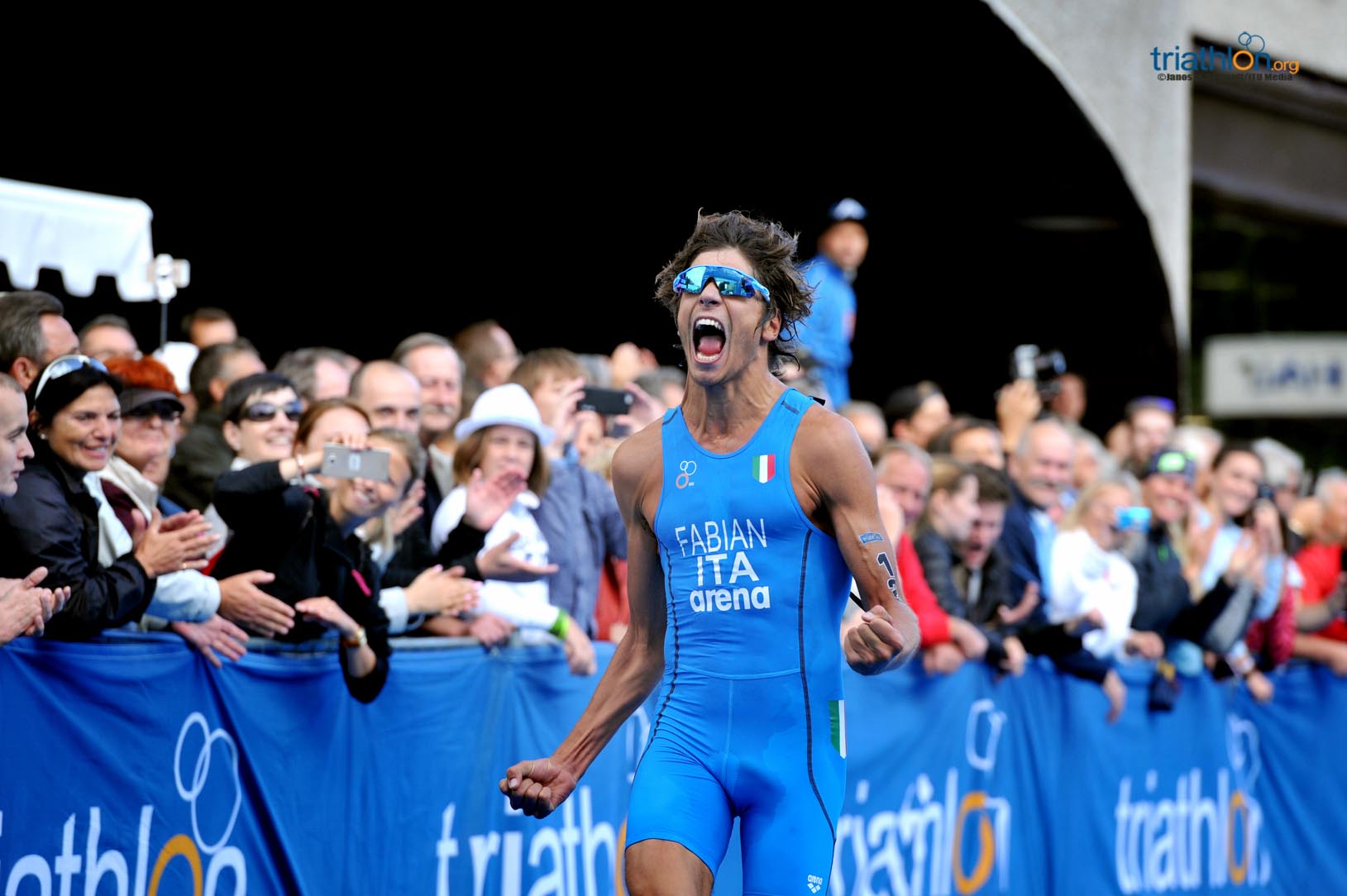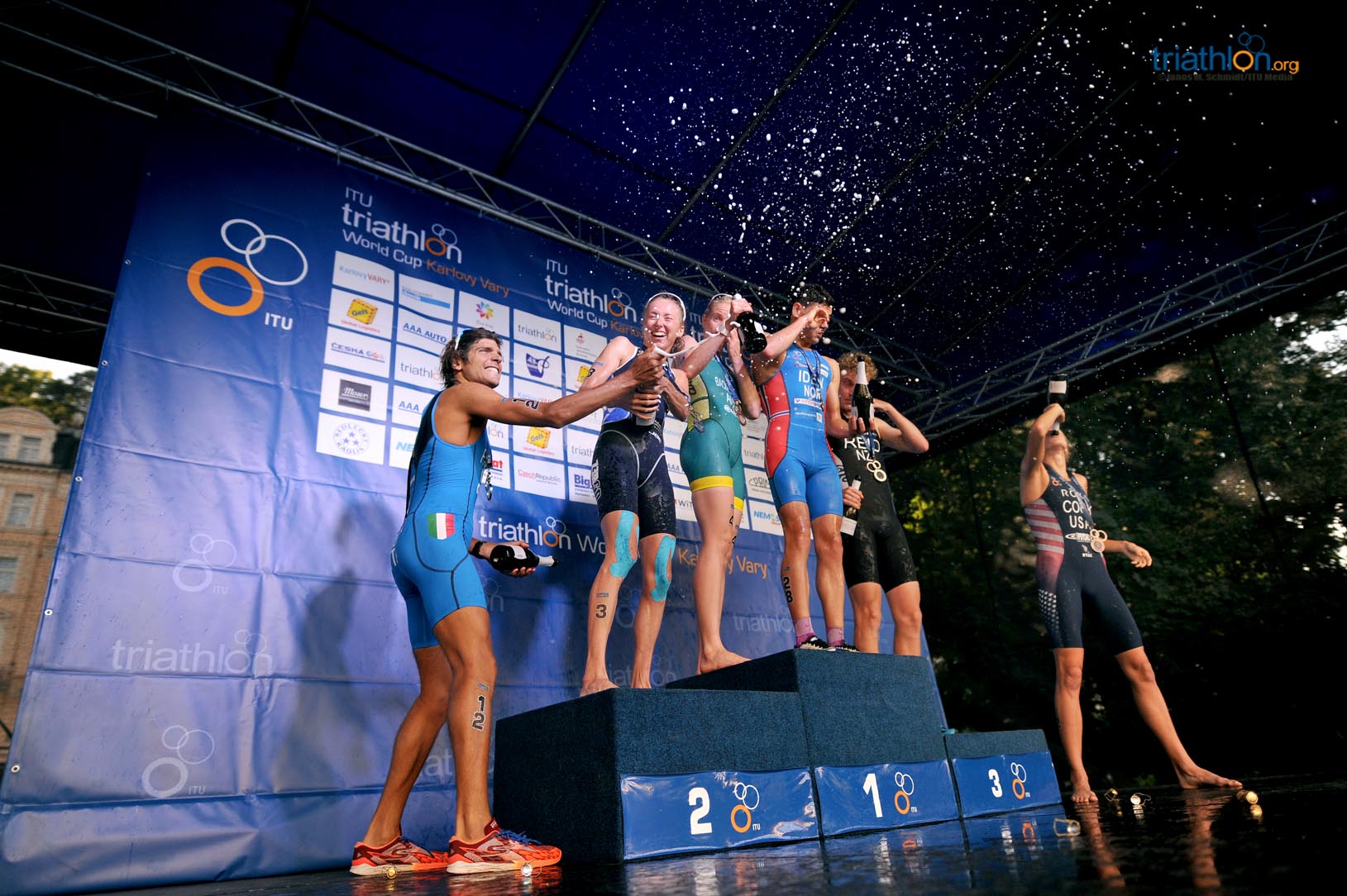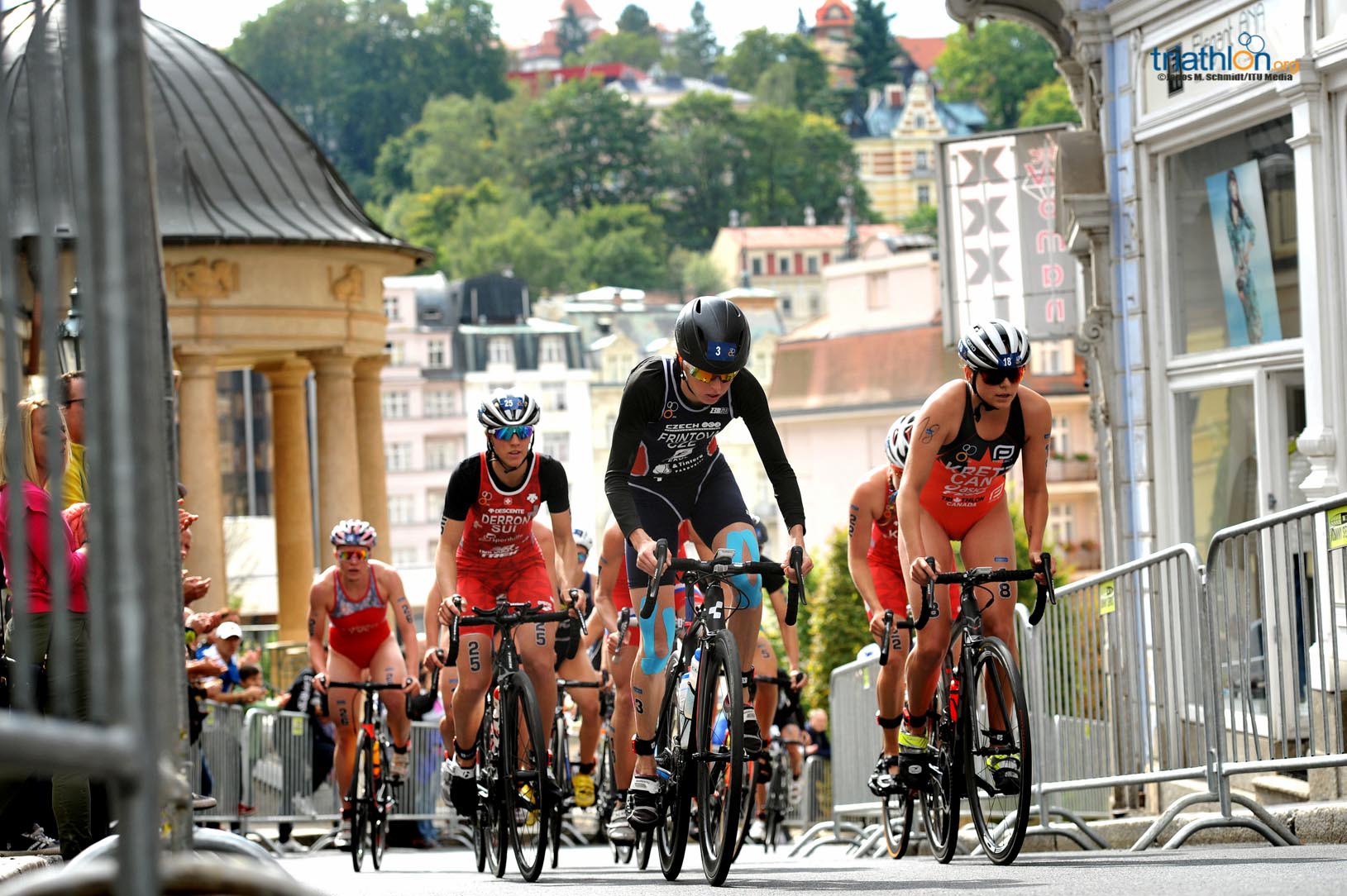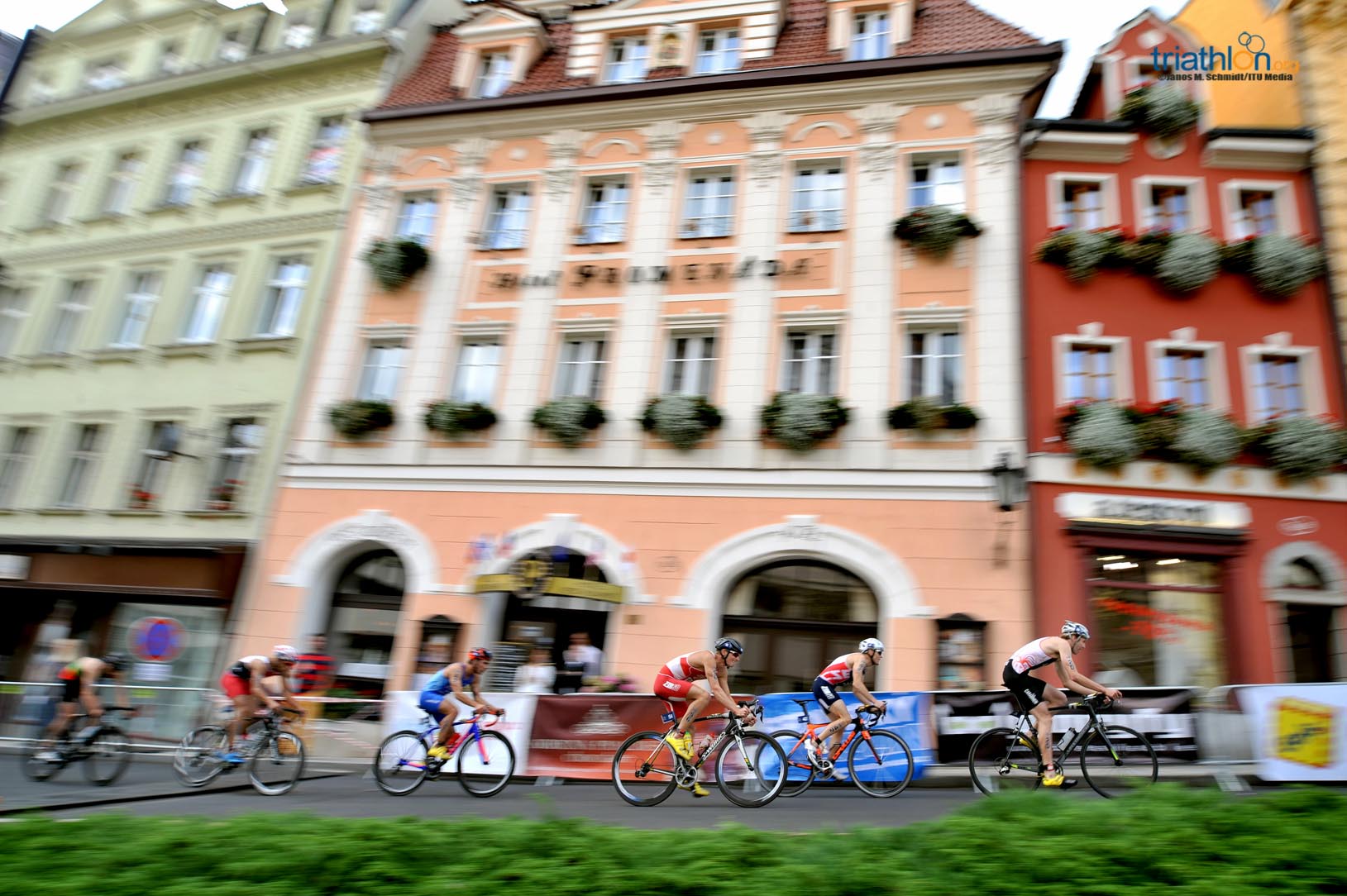 (foto: ITU Media)
Attention turns to Czech Republic as Karlovy Vary hosts latest World Cup stop
Triathlon returns to the beautiful spa town of Karlovy Vary, in the Bohemia region of the Czech Republic, on Sunday, following the venue's sparkling debut on the World Cup circuit 12 months ago.
A challenging course takes in a 1.5km swim in Rolava Lake ahead of a 40km bike course that snakes through Karlovy Vary's leafy outskirts before the 7-lap loop delivers testing twists and turns through the town itself and a 4-lap, 10km run then completes the race, hugging the banks of the Tepla River and finishing at picturesque Divadelni.
Women's preview
The women's starting list is packed with European talent, home favourite Vendula Frintova wearing the number one and hoping to go one better than her silver here 12 months ago and take the tape for the first time in almost a year. Frintova found form at the European Championships last month where she placed sixth, while teammate Petra Kurikova will also be looking to use the crowd's support for an added push towards a potential first-ever World Cup podium.
French triathlon has been going from strength to strength this season and a key member of the Mixed Relay team, Audrey Merle has already tasted European Cup success in Karlovy Vary three years ago. The British duo of Lucy Hall and Beth Potter have both returned strongly this year from long lay-offs and will hope to be well positioned after the swim to push for the medal places.
Leading a strong German line up will be Laura Lindemann, no stranger to the elite podiums in recent years and fourth-placed at the European Championships in Glasgow, while the Italian squad is similarly packed with potential, in particular Verena Steinhauser, Ilaria Zane and Giorgia Priarone.
Of the non-European talent on show, experienced Chilean Barbara Riveros will be looking to build on her brilliant 4th place in the Lausanne World Cup and silver at the Long Distance World Championships in Fyn in July as she continues her return to the front line of world triathlon.
USA's Tamara Gorman will want to recover the kind of form that saw her place second in Chengdu back in May, and New Zealander Deborah Lynch has been putting together some strong performances of late to put herself in contention.
Men's preview
The top-ranked male athletes in the field in Karlovy Vary are all incredible swimmers who will be pushing each other hard to establish a significant lead out front after the ever-testing 1.5km swim. Slovakia's tri-icon Richard Varga – seventh here last year - wears the number one, but Russia's Polyanskiy brothers will be right on his heels at the very least, with Dmitry having won in Astana back in May and Igor looking for his first win since the middle of 2015.
Italy's Alessandro Fabian placed second here last year and will be part of a talented Italian line up that also sees Delian Stateff and Davide Uccellari, first and third respectively in Cagliari at the start of June, also looking likely to be in the mix for a medal place.
Few on the elite men's circuit have worked as hard as Jonas Schomburg in 2018, and he will be taking to the start line for the 15th time in a year that has seen him traverse the globe hunting for a first podium spot of the season. Schomburg finished fourth here last year thanks to a powerful sprint finish, and will be hungry for another top 10 placing at the very least this time around.
The Netherlands' 2016 U23 World Champion Jorik Van Egdom has been central to his country's Mixed Relay team in recent outings, and he showed his form at the top level once more with fifth in Lausanne in mid-August. Irish duo Russell White and Constantine Doherty will be hoping to convert their consistent performances to a podium finish, while plenty of South American potential can be found in the form of Luciano Taccone (ARG), Danilo Pimentel (BRA) and Juan Figueroa (ECU).
For the full start lists, click here.
The Elite races will take place on Sunday, September 2, from 10am local time. Follow live updates on Twitter @triathlonlive.
(fonte: comunicato stampa ITU)