Il Dott. Sergio Migliorini ha ricevuto un importante riconoscimento nel corso della serata di Gala organizzata a margine della Grand Final della World Triathlon Series di Losanna, un premio attribuito a chi ha offerto nel corso degli anni un contributo eccezionale al triathlon.
La ITU, in fase di premiazione, ha sottolineato come Migliorini abbia "una conoscenza in Medicina fisica e riabilitativa che non è seconda a nessuno: è proprio questo il motivo che ha spinto la federazione internazionale a selezionare Sergio come delegato medico per i Giochi Olimpici di Londra 2012 e Rio 2016, e membro del Comitato Medico e Antidoping dell'ITU dal 2008".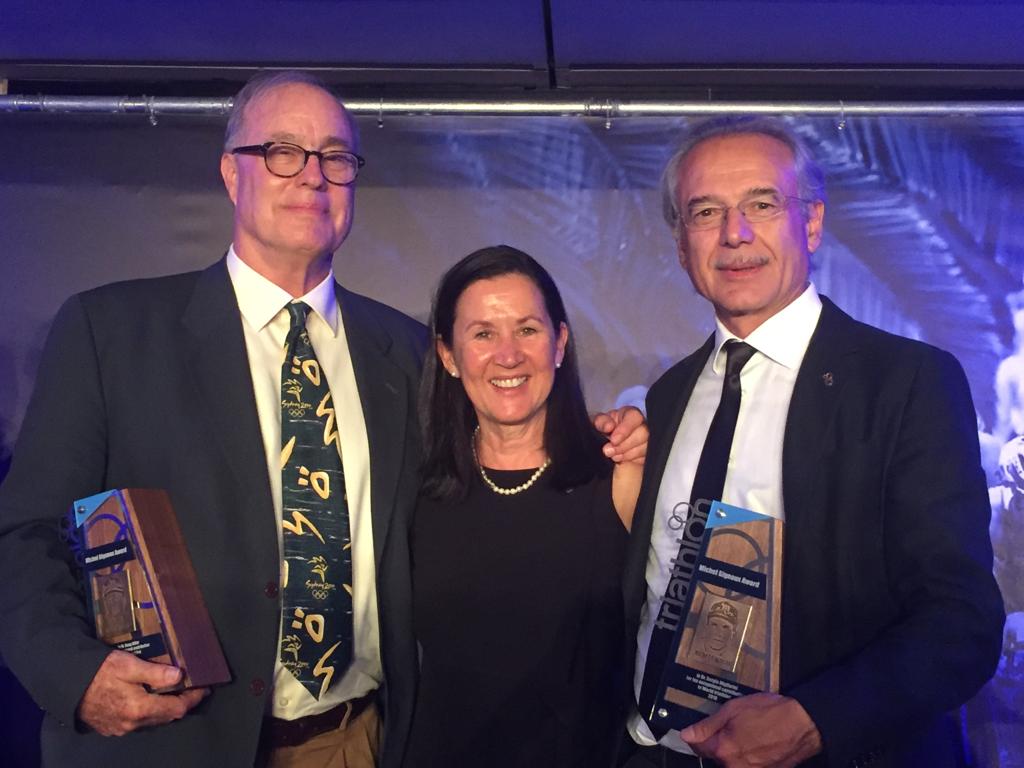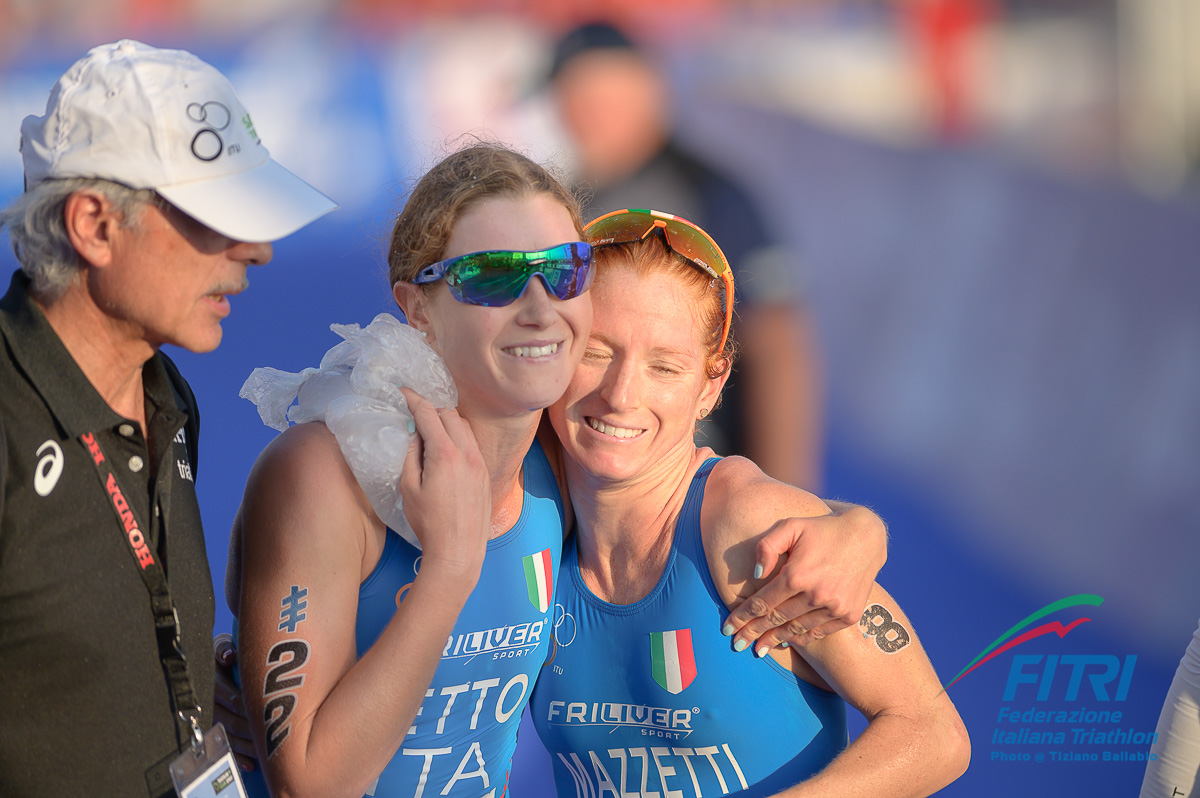 ITU announces 2019 Hall of Fame inductees
ITU today announced the six inductees for the fifth edition of the Hall of Fame. The induction ceremony took place at a gala dinner in Lausanne, the Olympic capital, the city that is hosting this week the 2019 ITU World Triathlon Grand Final.
"It is with great pleasure that I welcome these inductees into the ITU Hall of Fame," said ITU President and IOC Member Marisol Casado. "We are a very young International Federation, but we have been privileged enough to have witness some incredible athletes compete and accomplish amazing feats, so it is a great pleasure to have those great names included on our historical gallery".
Elite Women:
Sheila Taormina, USA
Sheila Taormina turned 50 earlier this year, so what better time to recognise a great all-round athlete whose achievements epitomise the universal appeal and accessibility of triathlon. Hailing from Michigan, Sheila's background was always in swimming, captaining University of Georgia's Bulldogs team in 1991. Five years later, she was part of the USA's Olympic gold-winning 200m relay team at the Atlanta 1996 Games. Having taken some time out of the pool, Sheila found herself tackling triathlons to get into shape and fell in love with swim-bike-run, tackling her first World Cup in Lausanne in 1999. Almost exactly a year later, the American successfully qualified for the triathlon at the Sydney Olympics, finishing sixth. The following year, Sheila found herself on top of the ITU podium for the first time in the Cancun World Cup and in 2004 completed a remarkable journey by becoming World Champion. It is a mark of her determination and appetite for a challenge that Sheila would then go on to represent USA in modern pentathlon at Beijing 2008 to become the first woman to qualify for an Olympic Games in three different sports. For all these reasons, Sheila Taormina is hugely deserving of a place in the ITU Hall of Fame.
"I can't believe I am part of history. To see all these friend and meeting new friends. I haven't been I triathlon circles in 15 years because life gets busy. The strange thing about doing different sports is you never really know where you belong but triathlon feels like family. Thank you to ITU for giving me the experience to race among class act women."
Emma Moffat, AUS
Born in New South Wales and raised in Woolgoolga, Australia's Emma Moffat is a two-time ITU World Champion and Olympic medallist who was a true great over the standard-distance format. Coming to triathlon at the age of 13 and rising through the Junior, Youth and U23 ranks, Emma was the runner-up in the 2007 World Cup Series, kicking off a glittering Elite career. Picking up the bronze at the 2008 Olympic Games, she went on to win back-to-back World Championships in 2009 and 2010, dominating proceedings in 2009 with four golds and a silver then landing five podiums to defend that title a year later. A bike accident at London 2012 Olympics may have dented her Olympic dream, but Emma was back with a vengeance at Rio 2016 finishing in sixth place. Two World titles, three Olympic appearances including a bronze medal and the epitome of the values and dedication that the sport of triathlon holds so dear make Emma Moffat an obvious choice for entry into the ITU Hall of Fame.
"To reminisce on so many memories is incredible. Thank you to the ITU for allowing me the opportunity to be apart of the progression. I may be standing up here on my own but you don't do it on your own. There's a whole team behind you and I couldn't have does it through them. Thank you all, so much."
Elite Men:
Daniel Unger, GER
Born in Ravensburg, Germany, Daniel Unger was crowned ITU World Champion in 2007, the pinnacle of a celebrated career that also saw him compete at the 2008 Beijing Olympic Games where he placed sixth. Arriving at the sport of triathlon as a Junior in the mid 1990s, Daniel was a regular on the World Cup circuit back when it was the top-tier ITU event, but it was his performance on home turf in Hamburg in 2007 for which he makes his way into the ITU Hall of Fame. Starting wearing the number 35 in a field packed with some of the biggest names the sport has produced, Daniel was more than 30 seconds off the lead coming out of the water. A strong bike hauled him back into contention, but it wasn't until the final 200m that he finally closed in on leader Javier Gomez, passing the Spanish legend and holding on for a memorable win to the sheer delight of the crowds that had lined the final straight and carried him home.
Brad Kahlefeldt, AUS
Hailing from Temora, New South Wales, Australia's Brad Kahlefeldt is an inspiration for all athletes when it comes to using positivity to overcome the obstacles that life throws in everybody's lives at one time or another. A promising Aussie Rule Footballer, Karl decided to focus on running and then triathlon, competing for the first time in Canberra in 1993 and reaching his first Elite-level World Cup 7 years later, scoring a top ten finish in Cancun. After finally putting behind him several injury setbacks that had forestalled the start of his career proper, in 2002, at the same venue, Brad became the U23 World Champion, propelling himself into the spotlight and consistently onto the podiums of ITU's top-tier races. Bronze in the 2005 World Championships saw the Australian hit the number one ranking for the first time, and was followed up with Commonwealth Games individual gold as well as a host of World Cup triumphs. Brad went on to represent his country at the 2008 Beijing Olympics and London 2012, and his place as one of Australia's greatest triathletes sees him deservedly enter the ITU Hall of Fame this year.
"I am so privileged to call triathlon my career for over 20-years. It's wonderful to be back here among friends, I feel so honoured."
Lifetime Achievement Award: Sarah Springman
With an extensive curriculum that includes many years of service with the ITU Executive Board and two terms as ITU Vice President, firstly under Les McDonald and more recently Marisol Casado, Sarah Springman OBE receives the 2019 ITU Lifetime Achievement Award for her incredible contribution to our sport. As well as her extensive work with ITU and pivotal role in campaigning for the sport's inclusion in the Olympic programme, Sarah also has a stellar record as a National Federation President for the British Triathlon Federation, delivering the hugely successful Olympic Games triathlon in London's iconic Hyde Park and paving the way for subsequent WTS events as a legacy of those memorable Games. Add to that numerous world-class appearances as an elite athlete, including the 1990 Commonwealth Games triathlon competition, and there can be few people who have left such an indelible mark on the sport of triathlon and deserve this prestigious accolade and recognition as Sarah Springman.
Michel Gignoux Award: Doug Hiller and Sergio Migliorini
This year's prize recognising individuals who have made an outstanding contribution to the sport of triathlon is jointly awarded to Dr. Doug Hiller, Chair of the Medical Committee from 1994 to 2008 and his successor, Dr Sergio Migliorini. ITU is indebted to both men for their incredible work in formulating the first-class medical plan that we continue to follow in order to achieve our most important goal as triathlon's world governing body; ensuring the health and safety of our athletes. Dr Hiller is an expert in the world of endurance sports, having competed in multisports in the 1980s and becoming fascinated by its physiological effects and ramifications. Doug travelled the USA researching and performing studies on athletes, with particular focus on the effects of fluid intake during races, and continues to specialist in sports-related injury treatment. Dr Migliorini's knowledge of Physical and Rehabilitation Medicine is second to none. It is what prompted ITU to select Sergio as the Medical Delegate for both the London 2012 and Rio 2016 Olympic Games, preside over the ITU Medical and Anti-Coping Committee since 2008, and is what makes him such an authority in an endurance sport that will always test the athletes' bodies to their limits, captured in his most recent book, Triathlon Medicine.