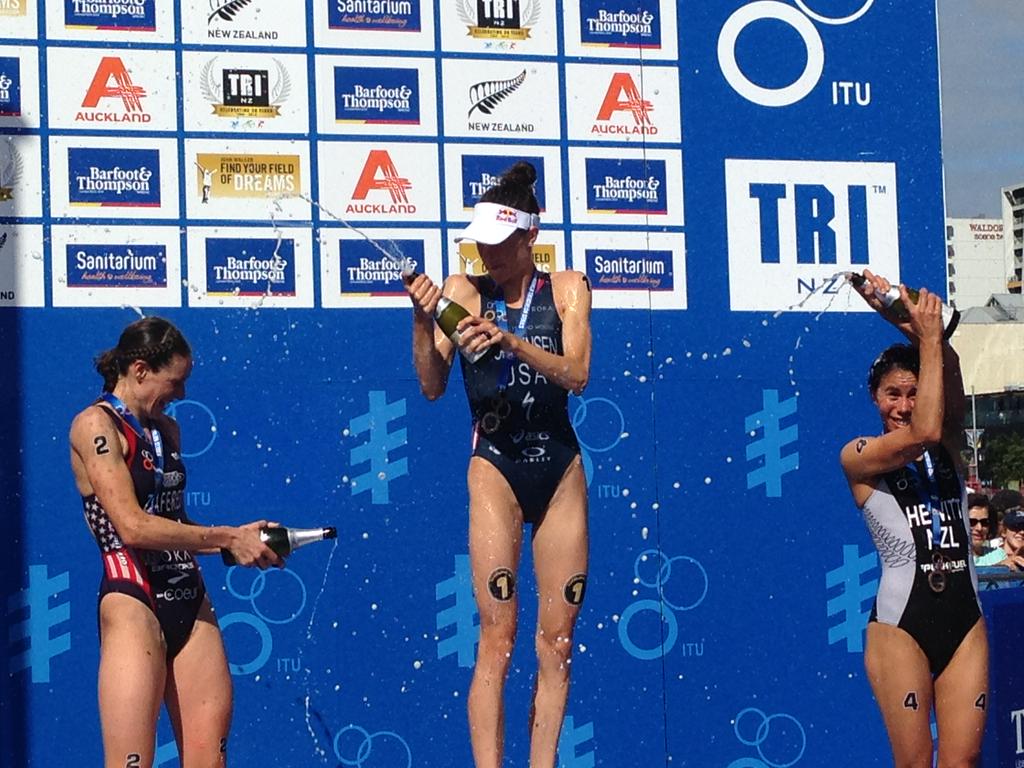 Fonte foto: Twitter TriathlonLive
La statunitense Gwen Jorgensen conquista anche la Nuova Zelanda: dopo tre tentativi di vincere ad Auckland, nell'edizione 2015 disputata tra sabato e domenica notte, la fortissima Jorgensen si è finalmente aggiudicata anche questa medaglia d'oro, portando a 10 le sue vittorie in World Triathlon Series ed assicurandosi al momento la leadership della classifica mondiale, dopo la vittoria della prima tappa di WTS ad Abu Dhabi.
Alle spalle della campionessa iridata in carica, doppietta per gli Stati Uniti con l'argento conquistato dalla sua connazionale Katie Zaferes e, terza sul podio, medaglia di bronzo, la 'padrona di casa' e tra le favorite della giornata, Andrea Hewitt.
La cronaca agonistica femminile ha visto la Jorgensen uscire dalla prima frazione del nuoto con circa 40 secondi di distacco dalle prime, ma in recupero con una decisa frazione ciclistica durante la quale il gruppo delle inseguitrici in cui era inserita, si è riunito a quello di testa, consentendole di proseguire annullando lo svantaggio iniziale e di poter uscire dalla T2 tra le leader. A quel punto, con la sua solita incredibile frazione a piedi, ha imposto un distacco alle avversarie di ben 90 secondi, concludendo da protagonista assoluta in 2.09.04.
Nella gara maschile, è tornato a vincere Jonathan Brownlee (Gbr), con una prova 'esplosiva' nella frazione di corsa, che gli ha consentito di infliggere agli avversari un distacco progressivo che lo ha portato a tagliare per primo il traguardo. Una gara condotta con grande determinazione, che ha mostrato subito un Brownlee deciso a vincere: assicurata la sua posizione nel gruppo di testa dopo il nuoto e per tutti gli otto giri della frazione ciclistica, appena uscito dalla T2 è stato impossibile restare dietro al suo passo per gli altri avversari. Alle sue spalle, a 15'' di distacco, lo spagnolo iridato Javier Gomez ha vinto l'argento, facendosi sfuggire per la prima volta ad Auckland il gradino più alto del podio. Terzo al traguardo, un bravissimo Pierre Le Corre (Fra) che ha centrato il suo primo prestigioso podio in WTS.
Tutti i risultati ufficiali nel sito ITU.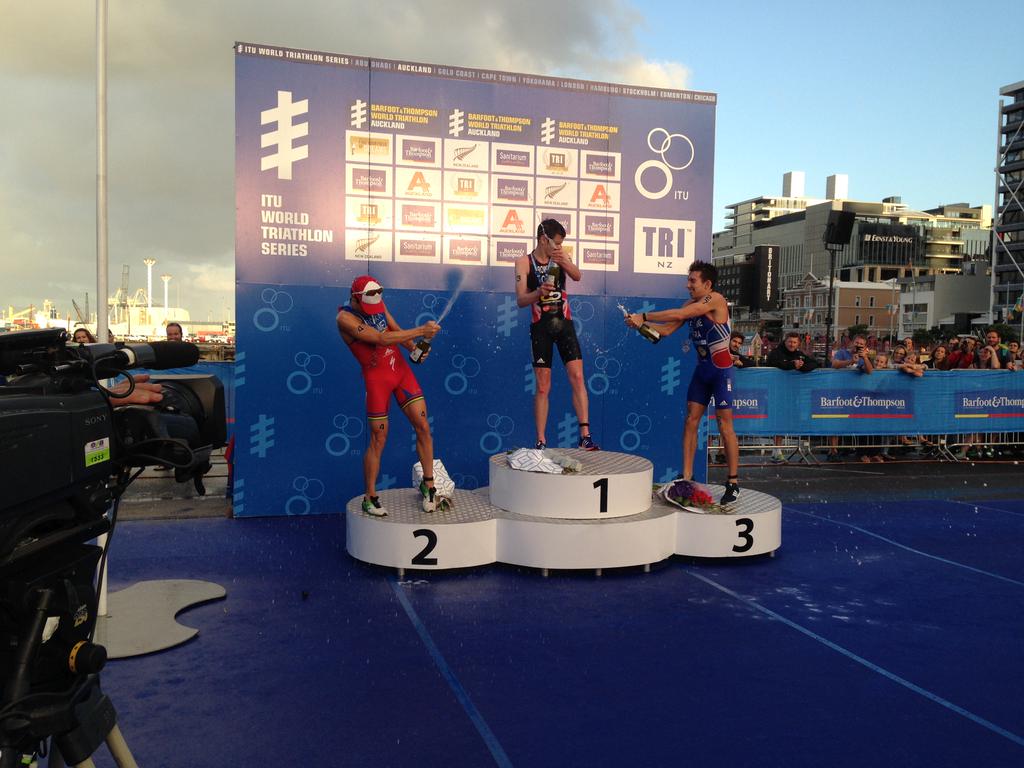 Fonte foto: Twitter TriathlonLive

---
APPROFONDIMENTO DA ITU
Press Release • March 29, 2015
Jorgensen, Brownlee secure first-time wins at WTS Auckland
Auckland, March 29 - It was a day of firsts as Gwen Jorgensen (USA) and Jonathon Brownlee (GBR) claimed their first 2015 ITU World Triathlon Auckland title on Sunday. Women's Review American Gwen Jorgensen finally got a long awaited win at the 2015 World Triathlon Series in Auckland on Sunday after three attempts. The victory rocketed the American to 10 WTS wins and cemented her place at the top of the Threedneedle leader board after her win in Abu Dhabi.
Also mirroring that first WTS race earlier in the year, fellow American Katie Zaferes was able to take home the silver medal with a time of 2:10:42.
Jorgensen emerged from the water with a 40-second deficit but her her effort on the early laps of the bike catapulted her into the lead group as she was able to remain their for the entire 40km before unleashing her lethal run. Crossing the finish-line at 2:09:04 with a lead of over 90 seconds, she earned her second gold medal and granted her the rights to an early perfect 2015 WTS season.
"I really wanted to be with the leaders in T2 so I am really happy that I was able to do that. I was able to execute with my run today but my main goal is to keep with front pack during the bike," said Jorgensen.
A mild temperature and sunny conditions saw a group of about nine lead by Jessica Learmonth (GBR) andCarolina Routier (ESP) lead out of the swim with a healthy gap between them and the chase group, for the entirety of the 1500-metre swim.
After the first transition, a strong lead group was led by Lucy Hall (GBR) and Sarah True (USA) for the first couple laps of the bike. But entering into the third lap a huge push from the chase group caused the frontrunners to turn into a 21-women merger. The last part of the bike ride the leaders dwindled down to an 11-person pack that included Jorgensen, True, Lisa Norden (SWE), Andrea Hewitt (NZL) and Vendula Frintova(CZE).
Norden executed a strong performance on the bike as she brought herself back from a forty-second deficit from the water to be the leader on the bike for five out of the eight-laps. However she was forced to pull herself out of the race once she hit the run with Achilles trouble.
The three positions were determined early with Jorgensen, Zafares and Hewitt breaking away from the pack in the early stages. While Jorgensen took off on her trademark run, fellow teammate Zafares was able to hold onto a consistent pace to land her the second-place finish.
"I am super excited, last year was my first time in Auckland and it went as bad as I think it could go. This year it went as good as I think it could go. I run my own race the whole time, I don't want to get caught up in someone else's pace so I just do my own thing," said Zafares.
New Zealand's own Hewitt put in a monster performance to be in the leading group on the bike and dictated terms but was not able to match the leg speed of Jorgensen. A littering call made on the bike course also handed Hewitt a 15-second penalty, but despite the setback she was able to rally and take home the last podium position. Her third play today also secured her place on the New Zealand team for Rio 2016 as it doubled as a selection race for the home nation.
2015 ITU World Triathlon Auckland - 29 March
1500m swim - 40km bike - 10km run - Final Results - Elite WomenMen's ReviewGreat Britian's Jonathan Brownlee finally ended the reign of Spains Javier Gomez Noya in Auckland today at the 2015 World Triathlon Series. Brownlee had not beaten Gomez on three previous occasions he was not to be denied a fourth time. A career best performance from Pierre Le Corre (FRA) saw him grab his first WTS podium. Following a less than perfect start to his 2015 season he turned in a master-class performance over the tough and hilly course.
Remaining one of the athletes to beat throughout the entirety of the New Zealand course, Brownlee proved his gold-medal worth once foot hit the pavement and he secured a healthy gap that brought him into the finish-line. Adding a 10-second lead after each of the four-lap 10-kilometre run, he took home the top podium position with a time of 1:55:26.
"It was great to win today, first World Series event that I have won in a while. In Abu Dhabi I made a lot of mistakes and I have been beating myself up about it over the last three weeks and training hard because I did not want to do it again," said Brownlee. "I felt good, I really enjoyed it today and I am pleased to win."
63 athletes dove into the Auckland Harbour but it was no surprise to see the familiar sight of Richard Varga (GBR) at the front of the pack and first out of the water, a lead group formed crossing through the first transition that remained a tight pack until the end.
With the leaders becoming interchangeable, a 15-man lead group held a united front and stayed uninterrupted for all eight laps of the 40-kilometre bike discipline. The showcased leaders consisted of Brownlee, Thomas Bishop (GBR), Varga, Gomez Noya, Henri Schoeman (RSA) and Pierre Le Corre (FRA). The chase group, which housed New Zealand's own Ryan Sissons (NZL) and the WTS Abu Dhabi gold medallist Mario Mola(ESP) could not close the gap and stayed behind by over 30 seconds.
Spain's Gomez returned to form after his 6th-place finish in Abu Dhabi and earned himself a podium position. Despite not being able to catch up to the wind of Brownlee, in the final lap he broke away from Le Corre, who finished third, and established the silver medal. This is the first time in the four outstanding appearances in Auckland that Gomez has not placed first—he was the WTS Auckland champion most recently in 2014.
"Jonathan was just really strong today. I have been through a pretty tough time lately, I got sick right before Abu Dhabi and between that race and today I was taking a strain too so I am really happy with second place. Obviously I would have loved to win but I performed the best I could," said Gomez.
Another standout performer throughout the day was Richard Varga who lead the charge out of the water and then out on the bike. The strong swimmer was first out of the water and remained a constant competitor among the lead pack on bike, where he also entered with the top time entering the second transition. He finished in seventh place with a time of 1:57:07.