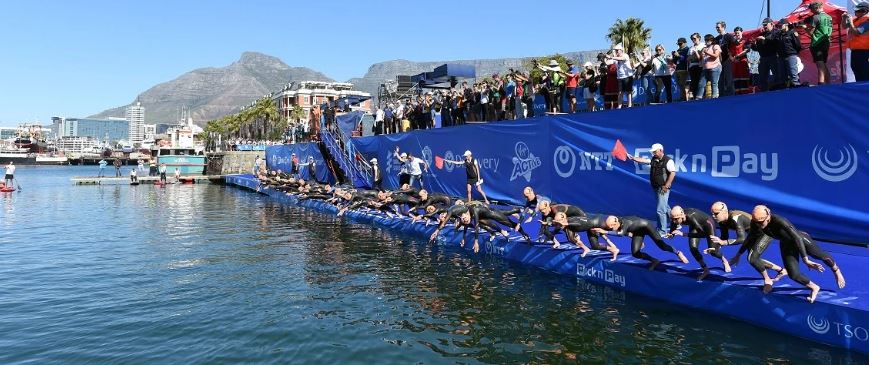 Prende il via sabato 11 febbraio a Cape Town (RSA) il circuito di World Cup di Triathlon stagione 2017. Quest'anno le gare di coppamondo saranno 16, di cui sei su distanza sprint. Si ricorda che Cagliari ospiterà per il secondo anno consecutivo l'edizione prevista in Italia il 3-4 giugno. Nel prossimo week-end non avremo azzurri in gara, ma li ritroveremo presto impegnati nel massimo circuito della World Triathlon Series.
Approfondimenti su Cape Town: start list, programma
news Itu: 2017 World Cup Season Kicks Off in Cape Town
The 2017 ITU World Cup season officially kicks off this weekend in Cape Town
The 2017 ITU World Cup season officially begins this weekend as Cape Town, South Africa holds the privilege of hosting the first stop in a 16-city worldwide tour. As the elites prepare to toe the start line for the first time this season, ITU is thrilled to have the World Cup circuit return to South Africa after Richard's Bay hosted a competition from 2006-2008. While Cape Town is no stranger to ITU events after hosting World Triathlon Series races from 2014-2016, this will be the first time that the picturesque and coastal city will host a World Cup. So, as the elites take the stage on Saturday, February 11, from Olympic legends to hometown heroes, Cape Town is set to reveal a roster of talented men and women eager to get the competition season underway with a fast and furious sprint.
Women's Preview
The women will race first on Saturday. Japan's Ai Ueda tops the start list after finishing as the third overall female in the 2016 WTS. She is also the most successful World Cup competitor of both the men's and women's rosters. She has won six World Cup races throughout her career, including the most recent, which was the 2016 Miyazaki ITU Triathlon World Cup. She will be one of the biggest threats out on the course on Saturday as she is a fast and consistent athlete.
Another top Japanese woman to race this weekend is Juri Ide. She is a two-time World Cup winner, but hasn't seen gold since 2011, so she is due for another crown.
Rachel Klamer (NED) is also a top performer to look out for this weekend. She earned her one and only World Cup gold back in 2014 in Tiszaujvaros, but hasn't made it to the top of the podium since. She did, however, have a career-high accolade last year in the WTS by earning her first Series medal in Hamburg.
Brits Lucy Hall and Jessica Learmonth are big threats entering the competition. They are two of the fastest swimmers in the field and will cause damage if they end up in a bike pack together, so could be a cause for concern for the rest of the women if these to get a break.
Men's Preview
The 2017 race season will start with a bang on Saturday with the men's roster turning up the heat. South Africa's own Olympic medallist Henri Schoeman tops the start list. Schoeman ended his 2016 year at a ground breaking high after he scored the bronze medal in Rio, and then followed it up with a first career World Triathlon Series gold at the Cozumel Grand Final. Also known for his top-tier skills in the water, he will without a doubt be hoping to start the new year the way he finished the last one.
But Schoeman is not the only South African that is going to be one to watch this weekend. Richard Murray has declared that he has always wanted to win on home soil in Cape Town since the city hosted its first WTS in 2014. This year he will have another chance to do so, this time on the World Cup platform. Murray also had a phenomenal 2016 season, placing 4th in Rio and earning one World Cup gold in New Plymouth. He has also proven his strength as one of the best cyclists and runner in the men's competition.
Making his way back to the ITU circuit is Vincent Luis. He took a break from major competitions in order to focus on Olympic preparation, and after placing seventh, the Frenchman is back and ready to compete. Cape Town will be the first World Cup that Luis has raced in since 2014. H is also the only athlete in both the men's or women's field who has made it onto a podium in Cape Town before, which was in 2015 when he earned the bronze.
Also vying for some Cape Town glory this weekend is a few men who have had previous World Cup success. Drew Box (AUS), Thomas Springer (AUT) and Matthew Sharpe (CAN) all have been on the World Cup podium, but none have earned gold, so this weekend could be the weekend to upgrade.
Click here for the full preview
ABOUT THE RACE:
In 2014, Cape Town became the first African city to organise a World Triathlon Series race. And now as the event transitions into a World Cup, it becomes the second South African city to host after Richards Bay held a World Cup from 2006-2008. With majestic Table Mountain in the background, the race offers some of the most spectacular views on the World Cup calendar. In addition to elite racing, the weekend of events will also include mass participation events. Age groupers will have the option to choose between a standard Olympic distance courses or hone their speed skills on a sprint course. SCHEDULE:
Elite Women - Saturday 11 February - 13:45 UTC/GMT + 2 Click here for time in your area
Elite Men - Saturday 11 February - 15:30 UTC/GMT + 2 Click here for time in your area
START LISTS:
Click here for the women's start list
Click here for the men's start list

LIVE COVERAGE:
Live timing and text coverage for Cape Town will be available on race day at triathlon.org/live or at@triathlonlive on Twitter.
COURSE PROFILE:
Swim - 750m - The swim comprises of 1 lap of 750 m, beginning and ending in Quay 6.
Bike - 20km - The cycle comprises of one lap of 4.8 km followed by 4 laps of 3.8 km. The cycle will start at Transition 1, Quay 6, V&A Waterfront.
Run - 5km - The run comprises of 2 laps of 2.5 km ending on the Stadium Forecourt.