Domenica 17 giugno la Coppa del Mondo ritorna in Europa e, archiviata la prova italiana di Cagliari in cui ha sventolato il Tricolore per merito del successo di Stateff e del terzo posto di Uccellari, fa tappa in Belgio, ad Anversa. Saranno nove gli azzurri in gara nella gara su distanza sprint.
Su indicazione di Joel Filliol, Olympic Performance Director, parteciperanno alla gara di domenica:


| | |
| --- | --- |
| Steinhauser Verena | A.S.D. Project Ultraman |
| Stateff Delian | G.S. Fiamme Azzurre |
Risultano iscritti a titolo personale:
| | |
| --- | --- |
| Zane Ilaria | DDS Dimensione dello Sport SSD |
| Papais Sara | Triathlon Duathlon Rimini |
| Priarone Giorgia | 707 S.S.Dilettantistica |
| Schanung Lisa | DDS Dimensione dello Sport SSD |
| De Ponti Massimo | C.S. Carabinieri |
| Pozzatti Gianluca | 707 S.S.Dilettantistica |
| Steinwandter Matthias | C.S. Carabinieri |
Durante la trasferta, gli atleti saranno supportati da Francesco Fissore (Performance Manager) e Dario Picco (Fisioterapista).
Il tracciato prevede la frazione di nuoto su giro unico, quattro tornate per un totale di 22.6 km per la frazione ciclistica (principalmente piatta con qualche tratto in pavé) e due giri per il segmento podistico per un totale di 5 km.
La partenza della gara maschile sarà data alle 15 in punto mentre la prova femminile scatterà alle 17.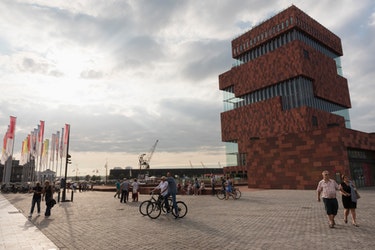 Antwerp ready to join the World Cup circuit
It is one of the oldest cities in Europe and has a long and lasting tradition of cycling sports, so it was just about time that the Belgium city on Antwerp joined the ITU World Cup circuit with an astonishing event ready to take the stage this weekend. The race, with some of the greatest triathletes of the world lining up, will be the eighth stop of the season as we reach the halfway point of what has already been an incredible 2018 for our sport, and represents the biggest triathlon event in the country in almost 20 years.
The new sprint-distance course will take in a one-lap, 750m circuit around Antwerp Harbour before the athletes transition onto their bikes for a technical 22.6km ride through the city streets. From there, the final section will see the runners loop back around the harbour before finishing by the grandstands overlooking the water and the beautiful Museum aan de Stroom.
Men's Preview
After his splendid performance only one week ago in WTS Leeds, Belgium Marten Van Riel will be indeed the home-crowd favourite and wearing the number one in this race will be enough to give him the extra fuel needed to recover from the Olympic distance race and face the demanding course of his hometown. But Van Riel will have to share the spectator's cheers with his teammate, Jelle Geens, who has had some of his best results in sprint races.
It won't be an easy challenge for him, though, with some other strong triathletes lining up in the Harbour. Matthew Sharpe and Tyler Mislawchuk, both Canadians, have had really strong performances in the last few weeks, with Mislawchuk earning his first ever top five in a WTS in Yokohama and both of them helping the Canadians claiming the seventh place in the first event of the World Triathlon Mixed Relays Series in Nottingham.
Another American, Kevin McDowell (USA), will also be trying to redeem himself of the not so great performances in the last races, looking forward going back to the top ten positions that he earned at the beginning of the seasons in a couple of World Cups. Germany's Jonas Schomburg is also returning to the World Cup circuit, after focussing on WTS events, and will be likely among the ones to watch if he can put together another strong display on the bike as the ones he usually does.
Spaniard Uxio Abuin Ares will also put up a show in Antwerp, after one of the strongest swims of his career only two weeks ago in Cagliari World Cup. With him in the pack of favourites will also be Norwegian Casper Stornes, the man who astonished the triathlon world after his victory in WTS Bermuda, ready to perform again in Belgium after not being able to finish the race last weekend in Leeds. With him in the pack, expect some serious bike skills and horsepower to try to break away in the technical bike course.
Italian Delian Stateff, winner in Cagliari world Cup, or kiwi Tayler Reid also have a great history of success in the ITU World Cup circuit.
Women's Preview
Trying to repeat the home nation success of the last World Cup, Belgium Claire Michel is surely going to take advantage of her great results lately to step up in Antwerp as one of the race favourites. With her endurance past and biking skills, the crowd favourite is used to great results in Olympic distance races, but will try her best to get the second podium of the season, after her third place in New Plymouth.
Wearing number 1 and trying to beat her will be American Summer Cook, a consistent and strong swimmer that will use that on her advantage, to try to break away in the first strokes of the swim. The other two Americans, Renee Tomlin, Tamara Gorman and Taylor Knibb, are among the greatest runners in the field, so expect their presence among the top athletes next Sunday.
Also worth watch will be the Kiwi raising star, Nicole van der Kaay, who just got her first ever top 10 finish in a WTS, after crossing the finish line in Leeds on 9th place, and her teammate Rebecca Spence, powerful biker and fast runner, who finished in sixth place in Leeds.
And on the European side, the Italian team –Verena Steinhauser, Giorgia Priarone and Ilaria Zane- are getting more experience in the World Cup circuit, and most likely their efforts in the last few races will pay off in Antwerp.
The men will kick off the 2018 Antwerp ITU Triathlon World Cup on Sunday, June 17 at 17:00 local time, with the women following immediately after at 17:00. Follow along with all of the action with live timing available at and with live social media updates using the hashtag #AntwerpWC on Facebook, Instagram and the @TriathlonLive Twitter channel.
ABOUT THE RACE:
SCHEDULE:
Elite Men - Sunday, June 17 - 15:00 local time
Elite Women - Sunday, June 17 - 17:00 local time
PRIZE MONEY: $60,000 USD (equal for men & women)
LIVE COVERAGE:
Live timing and text coverage for #AntwerpWC will be available on race day at triathlon.org/live or at @triathlonlive on Twitter.
COURSE PROFILE:
Swim (750m) - Starting on a pontoon, the swim consists of one lap of 750m, clokwise, in calm waters in the harbour. Expected water temperature: 17-20 °C
Bike (22km) - Athletes will do four laps on a technical but quite flat circuit in the streets of Antwerp.
Run (5km) - Two laps in asphalt roads.
(Fonte: comunicato stampa ITU)